Welcome Guest!
We encourage you to sign in to our advocacy center. By signing in to the site we will match you to your legislators, enroll you in our frequent activist rewards program, and make sending messages to your elected officials even easier.
Florida's Business Rent Tax 
Florida is moving in the right direction again:
Nearly 1 million jobs have been created throughout the state (since December 2010),

Taxes have been cut more than 50 times (since December 2010), and

Florida has earned recognition as one of the state's with the best tax climate (Chief Executive Magazine)
But one tax is still on the books that no other state charges, except Florida. It's the business rent tax. 
What is the business rent tax and why should you care?
When small businesses, such as your local pet shop, restaurant or salon rent commercial space, Florida charges a 6 percent tax on their rent (If you want to help eliminate this tax, click here).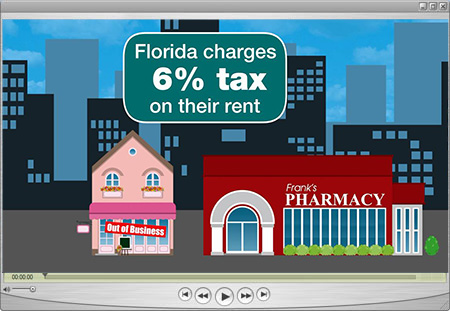 Florida's business rent tax reduces the ability of small businesses to create jobs and results in the owner making tough choices about offering better benefits, higher pay or even investing in the business itself. The business rent tax also increases the cost of doing business and results in you paying higher prices for goods and services (Click here to learn how you can help eliminate this tax).
Did you know: 2 out of every 3 jobs in Florida are created by a small business? The business rent tax generates $1.7 billion in revenue for the state of Florida. Small businesses believe, as Florida's economy recovers and the state's budget improves, the state can and should lessen the need to charge burdensome, job-killing taxes such as the business rent tax.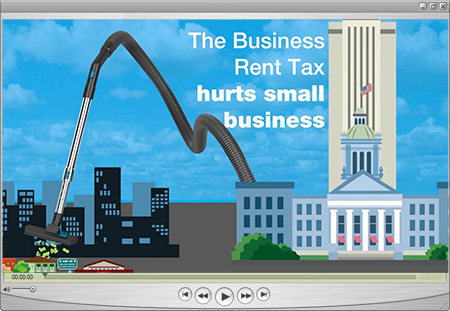 Small businesses contend the eventual elimination of the business rent tax will create jobs and pump millions of dollars back into local communities.
Groups Urging a Reduction in the Business Rent Tax:
Associated Builders and Contractors of Florida

Building Owners and Managers Association (BOMA) of Florida

Florida Chamber of Commerce

Florida Ports Council 

Florida Realtors

Florida Restaurant and Lodging Association

International Council of Shopping Centers

Manufacturers Association of Florida

NAIOP of Florida

Bay County Chamber of Commerce

Bonita Springs Chamber of Commerce

Citrus County Chamber of Commerce

Daytona Regional Chamber of Commerce

Destin Area Chamber of Commerce

Flagler County Chamber of Commerce

Greater Boca Raton Chamber of Commerce

Greater Fort Walton Beach Chamber of Commerce

Greater Miami Chamber of Commerce

JAX Chamber

Lake Wales Area Chamber of Commerce

Lakeland Area Chamber of Commerce

Lauderhill Regional Chamber of Commerce

Manatee Chamber of Commerce

North Port Area Chamber of Commerce

Northern Palm Beach County Chamber of Commerce

Ocala-Marion County Chamber and Economic Partnership

Orlando, Inc.

Tampa Bay Beaches Chamber of Commerce

Upper Tampa Bay Chamber of Commerce

Wesley Chapel Chamber of Commerce

West Orange Chamber of Commerce
***Click here to learn more about reducing the business rent tax***
Groups That Support Keeping the Tax the Same:
None listed, yet
You are visiting this site as a guest. Log in or create an account